Cost:  $325.00 before September 1st; $350 after September 1st
This course has limited space available.  Don't miss your chance.  Register today!
3 Day Course
This three-day certificate program covers Guru Nanak's Japji Sahib or "Call of the Soul". It is a opportunity for Sikhs and Kundalini Yoga Students to learn  about and experience the subtle power of the practice of reciting Japji. Written in the 15th century by Guru Nanak, Japji is a message of peace and deep spiritual wisdom. Guided by inspiring teachers, time will be spent on correct pronunciation of these divine sounds and then delve into the deeper meaning within each of the 40 Pauris or stanzas. Each Pauri has a unique transforming effect. Time will also be spent on the history of Guru Nanak to understand how this man of humble origins delivered to the world these divinely transforming verses.
Note:  It is highly recommended to take the full course to get the best experience with the maximum understanding and benefit.  If for some reason, however, you cannot attend the full course, you have the option to register by the day.  Also, there is accreditation for this course and to receive certification, you must complete all 3 days.
Day 1:  September 29th
This is the first segment of a three-segment course; it will focus on an introduction to the author of Japji Sahib, Guru Nanak and an overview of the historical context of the time when he lived. The focus will shift to the first section of Japji Sahib, known as the Mool Mantra, as it is often referred to as the "key" to understanding all of Japji Sahib.
Day 2:  September 30th
In this second segment of a three-segment course, the main focus will be on diving deep into the understanding of the middle section of Japji Sahib, looking at each stanza, phrase by phrase. Time will also be spent on refining the correct pronunciation of these sometimes challenging sounds.
Day 3:  October 1st
In the third and final segment of the course the initial focus will be to continue going through each stanza with deep understanding and correct pronunciation. Then time will be spent on the closing stanza, "Slok" to bring emphasis to the final message of Guru Nanak in Japji Sahib. Students will also be guided to identify one section as a personal study/practice over the following 40 days.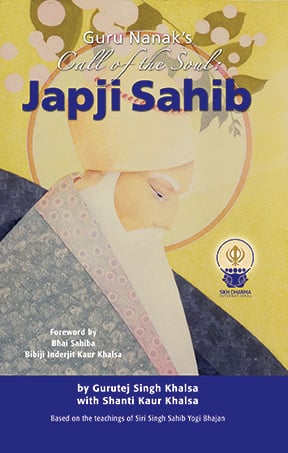 **Course fees are inclusive of all course classes and the book "Guru Nanak's Call of the Soul:  Japji Sahib" ($30 value).
**Meals and lodging for this course are not included.  If you are coming from out of town, you will need to make your own arrangements for accommodations. 
**Please see our Information page on this website for the details about the venue, what to bring, etc.