Décimo Noveno Pauree
El décimo noveno pauree trae conocimiento universal, inspiración y revelación.
Si entiendes este pauree, nunca tendrás problemas para entender nada.
Extraído del libro Guru Nanak's Call of the Soul: Japji Sahib:
En el décimo noveno pauree, Guru Nanak continúa explicando la inmensidad infinita del Uno verdadero. Explica que los nombres, las moradas y los reinos del Uno son innumerables y están fuera de nuestro alcance. Incluso, llamarlos innumerables es insuficiente porque es incomprensible para la mente.
Nanak nos dice que de la Palabra provienen los nombres y las alabanzas de lo Divino en todas sus formas. De la Palabra proviene toda la sabiduría. De la Palabra surgen todas las comunicaciones escritas y habladas. El destino que está escrito sobre nuestra frente proviene de esta vibración de la Palabra; sin embargo, el Uno que escribe ese destino está más allá de esta realidad y más allá del destino. La Palabra es lo sin forma en cada forma, lo no manifiesto en toda la manifestación. Todo lo que existe es una expresión de la Palabra.
Es por eso que creemos que la Palabra es lo más poderoso. Es por eso que creemos en la Palabra, adoramos la Palabra y para nosotros el concepto de la Palabra es el concepto de Dios. Canta canciones dulces, canta las canciones de la conciencia superior que llamas himnos, canta la canción del Guru que llamamos Gurbani. Porque eso limpiará tu mente y tu corazón. Eso te dará el concepto de una persona divina. Eso te dará el concepto de la conciencia superior, tus palabras.

~ Siri Singh Sahib – 14 de Julio de 1979
El poder y la importancia de la Palabra no deben subestimarse. La Palabra, el Naam, es la vibración y la identidad misma del Creador. En este pauree final de asankh, se manifiesta el misticismo profundo de Guru Nanak. Su sentido ilimitado de belleza describe a la creación entera como algo que brota de la vibración del Naam. El Guru nos explica la realidad de que el Naam no solo prevalece en las almas de los humanos en la Tierra, sino en todo el meta universo, en todos los mundos y en todos los seres.
Décimo Noveno Pauree
Asankh nav asankh thav.
Agamm agamm asankh loa.
Asankh kejeh sir bhar joi.
Akhri nam akhri salah.
Akhri gian git gunn gah.
Akhri likhann bolann bann.
Akhra sir sanllog vekhann.
Llineeh likhe tis sir naeh.
Lliv furmae tiv tiv paeh.
Lleta kita teta nao.
Vinn nav(ae) naji ko thao.
Kudrat kavan kaja vichar.
Varia na llava ek var.
Llo tudh bhav(ae) sai bali kar.
Tu sada salamat nirankar. ]19]
Innumerables son los nombres,
Innumerables los lugares.
Inaccesibles, inalcanzables e incontables son los reinos celestiales.
Aún describirlos como innumerables es un peso sobre la cabeza.
De la Palabra proviene el Nam; de la Palabra, viene la alabanza de lo divino.
De la Palabra proviene la sabiduría espiritual cantando las canciones de la gloria divina.
De la Palabra provienen las palabras y los himnos escritos y hablados.
De la Palabra proviene el destino escrito sobre la frente.
Pero no hay palabras escritas sobre la frente del Uno que escribió estas palabras del destino.
Lo que el Uno ordena es lo que recibimos. El universo creado es la manifestación del nombre divino.
Sin el nombre divino no hay lugar alguno.
¿Cómo puedo describir tu poder creativo?
Ni una sola vez puedo ser un sacrificio ante el Uno.
Lo que complazca al Uno es lo único que está bien.
¡Tú, Uno eterno y sin forma!
 Recitaciones Musicales
Disfruta estas hermosas recitaciones musicales del Décimo Noveno Pauree del Llap Lli Sahib
Recitación por Meditative Mind.
Recitación por Gurudass Singh y Gurudass Kaur.
---
Necesitas practicar tu pronunciación del Llap Lli Sahib?
Una de las mejores formas de aprender cómo recitar el Llap Lli es escucharlo y leerlo junto con alguien más recitándolo.
Para ayudar con eso, tenemos una App gratuita de Llap Lli para la Era de Acuario (Japji for the Aquarian Age) para IOS y Android. Una vez que la descargues, puedes usarla para recitar el Llap Lli Sahib completo en tu práctica diaria, o puedes elegir la opción "Repetir Paurees" y repetir junto con la recitación de cada sección del Llap Lli sahib.
Una práctica especial de 40 semanas de recitación del Llap Lli Sahib es recitar una sección 11 veces al día durante una semana y luego hacer lo mismo con la próxima sección y así, hasta terminar las 40 semanas, tú has completado una práctica de recitar cada una de las 40 secciones del Llap Lli Sahib 11 veces al día durante una semana.
Aquí hay instrucciones para descargar la App Llap Lli para la Era de Acuario
---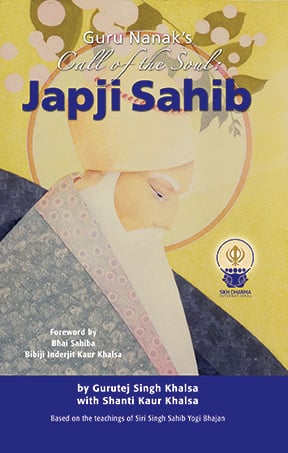 En el Llamado del Alma de Guru Nanak: Llap Lli Sahib, por Gurutej Singh Khalsa y Shanti Kaur Khalsa, Basado en las enseñanzas del Siri Singh Sahib Yogi Bhajan:
En el Llap Lli Sahib, Guru Nanak toca la esencia más profunda de la consciencia individual, elevándolo a uno hacia la consciencia universal. Llap Lli está hecho de 40 segmentos extraordinarios donde Guru Nanak no sólo explica los misterios del cosmos, sino también nos da una instrucción espiritual que podemos seguir para conseguir la misma experiencia de mayor consciencia que Guru Nanak encarnó. En este libro el Mul Mantra y cada uno de los 38 pauris del Llap Lli, más el Slok, son explicados desde una perspectiva espiritual y también histórica, mejorados por las enseñanzas del Siri Singh Sahib Yogi Bhajan. Es nuestra oración sincera que este libro te abra a la maravilla milagrosa del Llap Lli Sahib.
194 páginas incluyendo una exploración en profundidad de las 40 secciones del Llap Lli Sahib, 48 ilustraciones en color, 15 meditaciones que mejoran los efectos de los pauris, una guía de pronunciación y un glosario y prefacio por Bhai Sahiba, Bibiji Inderjit Kaur Khalsa, PhD.Incluye hermosas pinturas a color de Sewa Singh y Sewa Kaur.
Visita nuestro Mercado si estás interesado en comprar este libro.
Traducido por: 
Rupinder Kaur Khalsa 
Regístrate para recibir contenido de SDI traducido al español