Tercer Pauree
El tercer pauree transforma la insuficiencia en suficiencia, convierte la depresión en elevación
y transforma la falta de autoestima en confianza completa de uno mismo.
Extraído del libro El Llamado del Alma de Guru Nanak: Llap Lli Sahib:
En el tercer pauree Guru Nanak pregunta, ¿quién tiene el poder, la profundidad y la comprensión para cantar las alabanzas del Uno? Algunos cantan sobre la grandeza y las virtudes de Dios. Algunos cantan del Uno como Creador. Algunos cantan del Uno como Destructor. Guru Nanak describe los muchos senderos al Uno, y nos permite apreciar las múltiples maneras en que se vive Dios. Honra la manera en que toda la gente practica su culto, pero nos dice que aunque juntemos millones de sermones, oraciones y enseñanzas no podremos expresar plenamente la grandeza del Uno. Guru Nanak usa la palabra gav(ae), que se traduce como "cantar". En el mul mantra el Guru nos instruye a hacer llap, lo que significa cantar o recitar. Sin embargo, el canto y la recitación son sutilmente distintos. Guru Nanak nos dice que la recitación por sí misma no es suficiente, es necesario recitar con amor y devoción. No hay mejor manera de sentir y expresar ese amor y devoción que a través del canto. Guru Nanak nos aconseja llamar la atención de Dios cantando sus alabanzas.
As humans, it is our nature to only give when we feel love, and to take when we are fearful and insecure. Guru Nanak tells us that the One keeps on giving and never stops. In God consciousness there is no insecurity and no fear (nirbha-o, nirvair). Yet as long as we focus on maya, the illusion of the phenomenal world, and hold a deep unfulfilled longing for it, we keep taking and taking until our time on earth has finished. Yet still, the One continues to give. Guru Nanak goes on to tell us that God, the Great Giver, never tires of giving. It is the receivers (that's us!) who eventually can take no more. We accept, collect, and possess until we grow weary; can do it no more and finally leave our bodies. All the ages through we have done this. We keep on consuming through the cycle of birth and death.
Guru Nanak continúa diciéndonos que Dios, el gran Dador, nunca se cansa de dar. Son los beneficiarios (¡nosotros!) que al cabo del tiempo ya no podrán tomar más. Nosotros aceptamos, acumulamos y poseemos hasta el cansancio, hasta que ya no podemos continuar haciéndolo y finalmente dejamos nuestros cuerpos. Esto lo hemos hecho a través de todas las épocas. Seguimos consumiendo a través del ciclo del nacimiento y muerte.
Deda de l(ae)de thak paeh. Lluga llugantar khaji khaeh. Aquellos que reciben se cansan. El Dador nunca se cansa. Dar es un estado de consciencia. Dar es la calidad de la mente. Dar es la personalidad de Dios. Dar no puede limitarse. Cuando limitas el dar entonces eres corrupto. Dar es interminable. Siri Singh Sahib – 15 de diciembre de 1980
Por último, Guru Nanak aclara que el Comandante (jukami) por su comando (jukam) nos da este regalo increíble de caminar en el sendero espiritual. Al caminar en el sendero de la consciencia, el Uno florece en nuestras vidas. Ese florecimiento surge sin preocupación y sin esfuerzo. En ello crece una sensación de libertad al darnos cuenta de que el atributo más poderoso del Uno es la benevolencia.
Recitaciones Musicales
Disfruta estas hermosas recitaciones del Tercer Pauree, cortesía de SikhNet Gurbani Media Center:
Wahe Guru Kaur (WHA!)
Snatam Kaur – Malasia 2005 
Gyani Sahib Singh (Markanda) 
Profesor Satnam Singh Sethi 
3rd Pauree
Gaavai ko taann hovai kisai taann.
Gaavai ko daat jaannai neeshaann.
Gaavai ko gunn vaddiaa-eeaa chaar.
Gaavai ko vidiaa vikham veechaar.
Gaavai ko saaj karay tann khayh.
Gaavai ko jee-a lai fir dayh.
Gaavai ko jaapai disai door.
Gaavai ko vaykhay haadaraa hadoor.
Kathanaa kathee na avai tott.
Kath kath kathee kottee kott kott.
Daydaa day lainday thak paa-eh.
Jugaa jugantar khaahee khaa-eh.
Hukamee hukam chalaa-ay raahu.
Naanak vigasai vayparvaahu. II 3 II
Algunos cantan sobre el poder divino, ¿quién tiene ese poder? Algunos cantan sobre los regalos divinos,
y conocen la seña e insignia divinas.
Algunos cantan sobre las virtudes gloriosas y la belleza del Uno. Algunos cantan del conocimiento obtenido del Uno,
obtenido a través de estudios filosóficos complejos. Algunos cantan que el Uno divino moldea el cuerpo,
y que luego lo hace polvo.
Algunos cantan que el Uno quita la vida,
y que luego la reestablece.
Algunos cantan que el Uno divino parece estar tan lejos. Algunos cantan que el Uno divino nos observa,
cara a cara, siempre presente.
No escasean quienes predican y enseñan.
Millones y millones ofrecen millones de sermones y cuentos. El gran Dador sigue dando,
mientras aquellos que reciben se agotan de recibir.
En todas las épocas,
los consumidores consumen.
La unicidad que comanda por comando divino
nos guía para caminar en el sendero.
Oh Nanak, lo divino brota constantemente,
sin preocupación ni dificultades.
---
Necesitas practicar tu pronunciación del Llap Lli Sahib?
Una de las mejores formas de aprender cómo recitar el Llap Lli es escucharlo y leerlo junto con alguien más recitándolo.
Para ayudar con eso, tenemos una App gratuita de Llap Lli para la Era de Acuario (Japji for the Aquarian Age) para IOS y Android. Una vez que la descargues, puedes usarla para recitar el Llap Lli Sahib completo en tu práctica diaria, o puedes elegir la opción "Repetir Paurees" y repetir junto con la recitación de cada sección del Llap Lli sahib.
Una práctica especial de 40 semanas de recitación del Llap Lli Sahib es recitar una sección 11 veces al día durante una semana y luego hacer lo mismo con la próxima sección y así, hasta terminar las 40 semanas, tú has completado una práctica de recitar cada una de las 40 secciones del Llap Lli Sahib 11 veces al día durante una semana.
Aquí hay instrucciones para descargar la App Llap Lli para la Era de Acuario
---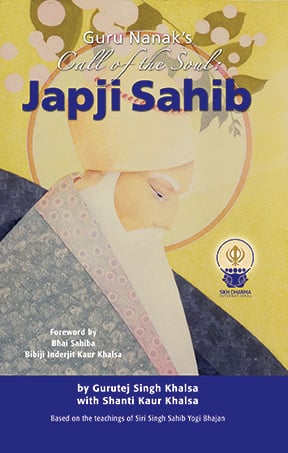 En el Llamado del Alma de Guru Nanak: Llap Lli Sahib, por Gurutej Singh Khalsa y Shanti Kaur Khalsa, Basado en las enseñanzas del Siri Singh Sahib Yogi Bhajan:
En el Llap Lli Sahib, Guru Nanak toca la esencia más profunda de la consciencia individual, elevándolo a uno hacia la consciencia universal. Llap Lli está hecho de 40 segmentos extraordinarios donde Guru Nanak no sólo explica los misterios del cosmos, sino también nos da una instrucción espiritual que podemos seguir para conseguir la misma experiencia de mayor consciencia que Guru Nanak encarnó. En este libro el Mul Mantra y cada uno de los 38 pauris del Llap Lli, más el Slok, son explicados desde una perspectiva espiritual y también histórica, mejorados por las enseñanzas del Siri Singh Sahib Yogi Bhajan. Es nuestra oración sincera que este libro te abra a la maravilla milagrosa del Llap Lli Sahib.
194 páginas incluyendo una exploración en profundidad de las 40 secciones del Llap Lli Sahib, 48 ilustraciones en color, 15 meditaciones que mejoran los efectos de los pauris, una guía de pronunciación y un glosario y prefacio por Bhai Sahiba, Bibiji Inderjit Kaur Khalsa, PhD.Incluye hermosas pinturas a color de Sewa Singh y Sewa Kaur.
Visita nuestro Mercado si estás interesado en comprar este libro.
Traducido por: 
Rupinder Kaur Khalsa 
Regístrate para recibir contenido de SDI traducido al español