35th Pauree
The Thirty-fifth Pauree gives you the breadth to do your duty and fulfill your responsibility.
In the 35th pauree, Guru Nanak tells us about Gyan Khand, the realm of knowledge and enlightenment. He emphasizes the vast and unlimited nature of the cosmos by repeating the word kaytay, meaning limitless or uncountable. Gyan is the wisdom of spiritual matters and one who holds this knowledge is known as a gyani.
In the Realm of Knowledge we come to perceive that there are many worlds for clearing karmas. It is through this process of clearing one's karma that beings are finally freed from the cycle of birth and death and merge wholly in the One. The wide-eyed manner that Guru Nanak marvels at the infinite expanse of the cosmos is innocent and almost childlike. He is in absolute awe of this limitless expression of knowledge, wisdom, and enlightenment. Guru Nanak exclaims in ecstasy, Naanak ant na ant! The cosmos is truly without end.
"Now in our life we have a fear of Ant. What will be your end? How will you be in your old age? How will you be in your young age? How will you be tomorrow? How will you be in the next hour? And some people reach to the point of insanity – how will be their next minute or the next second. But what Guru is saying is not what you are reading in the translation. He said don't get into this ant because this world is created by the beant, the One who has no end. This world is a creation of the Endless.

This world is not a creation for the end, by the end, of the end. This world is of the Endless. The soul is endless; the soul is a part of Infinity and Infinity is a part of the soul. Soul takes a shape in the finite to experience, in finite, the Infinity. That's the whole purpose on which the Sikh religion is based."
35th Pauree
Dharam khandd kaa ayho dharam.
Gi-aan khandd kaa aakhaho karam.
Kaytay pavann paannee vaisantar kaytay kaan mahays.
Kaytay barmay ghaarrat gharree-ahi roop rang kay vays.
Kaytee-aa karam bhoomee mayr kaytay kaytay dhoo upadays.
Kaytay ind chand soor kaytay kaytay manddal days.
Kaytay sidh budh naath kaytay kaytay dayvee vays.
Kaytay dayv daanav mun kaytay kaytay ratan samund.
Kaytee-aa khaannee kaytee-aa baannee kaytay paat narind.
Katee-aa surtee sayvak kaytay naanak ant na ant. II 35 II
This is righteous living in the Realm of Dharma.
And now we speak of the Realm of Spiritual Wisdom.
So many winds, waters, and fires;
so many Krishnas and Shivas.
So many Brahmas,
fashioning forms of great beauty,
adorned and dressed in many colors.
So many worlds and lands for working out karma.
So very many lessons to be learned!
So many Indras, so many moons and suns,
so many worlds and lands.
So many siddhas and buddhas,
so many yogic masters.
So many goddesses of various kinds.
So many demi-gods and demons,
so many silent sages.
So many oceans of jewels.
So many ways of life,
so many languages.
So many dynasties of rulers.
So many intuitive people,
so many selfless servants.
O Nanak, His limit has no limit!
---
 Need to practice your pronunciation of Japji Sahib?
One of the best ways to learn how to recite Japji is to listen to and read along with someone else reciting it.
To help with that, we have a FREE Japji for the Aquarian Age App for IOS and Android.  Once you download it, you can use it to recite the complete Japji Sahib in your daily practice, or you can choose the "Repeat Paurees" feature and follow along with the recitation of each section of Japji Sahib.
A special 40 week practice of reciting Japji Sahib is to recite one section 11x a day for one week and then do the same for the next section and so on, until over 40 weeks, you've completed a practice of reciting each of the 40 sections of Japji Sahib 11x a day for a week.
Here are instructions for downloading the Japji for the Aquarian Age App
---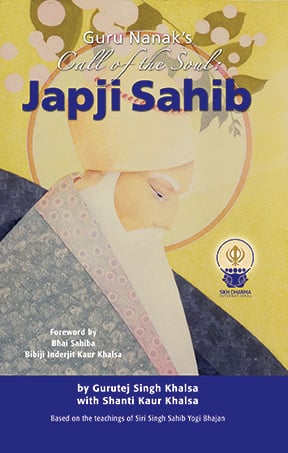 In Guru Nanak's Call of the Soul: Japji Sahib, by Gurutej Singh Khalsa with Shanti Kaur Khalsa, Based on the teachings of Siri Singh Sahib Yogi Bhajan:
In Japji Sahib, Guru Nanak touches the deepest essence of individual consciousness, elevating one to the universal consciousness. Japji is made up of 40 remarkable segments where Guru Nanak not only explains the mysteries of the cosmos, but also gives us spiritual instruction that we can follow to achieve the same experience of higher consciousness that Guru Nanak embodied. In this book the Mul Mantra and each of the 38 paurees of Japji, plus the Slok, are explained from a spiritual as well as historical perspective, enhanced by the teachings of Siri Singh Sahib Yogi Bhajan. It is our sincere prayer that this book will open up to you the miraculous wonder of Japji Sahib.
194 pages including an in-depth exploration of the 40 sections of Japji Sahib, 48 full color illustrations, 15 meditations that enhance the effects of the paurees, pronunciation guide and glossary and a foreword by Bhai Sahiba, Bibiji Inderjit Kaur Khalsa, PhD. Includes beautiful full-color paintings by Sewa Singh and Sewa Kaur.
Visit our Marketplace if you are interested in purchasing this book.