Mul Mantra
The Mul Mantra will change your fate.
It removes the fate and changes the destiny to complete prosperity. Recited for 11 minutes a day, it rids one of fear and keeps one in touch with the very foundation or root of life, the soul. Reciting it rids one of all enemies.
Mata Mandir Singh – Aquarian Sadhana Live at Summer Solstice 
Bhai Sadhu Singh – Dehradun 
Satkirin Kaur Khalsa – from the album "Melody and Majesty"
Mul Mantra
Ek ong kaar sat naam
kartaa purakh nirbha-o nirvair
akaal moorat ajoonee saibhang
gur prasaad. Jap.
Aad sach jugaad sach hai bhee sach
Naanak hosee bhee sach. II 1 II
One Universal Creator God,
the Name is Truth,
Creative Being personified,
no fear, no hatred,
image of the Undying,
beyond birth, self-existent,
by Guru's Grace.
Chant and meditate!
True in the primal beginning,
True throughout the ages,
True here and now,
O Nanak, forever and ever True.
---
Need to practice your pronunciation of Japji Sahib?
One of the best ways to learn how to recite Japji is to listen to and read along with someone else reciting it.
To help with that, we have a FREE Japji for the Aquarian Age App for IOS and Android.  Once you download it, you can use it to recite the complete Japji Sahib in your daily practice, or you can choose the "Repeat Paurees" feature and follow along with the recitation of each section of Japji Sahib.
A special 40 week practice of reciting Japji Sahib is to recite one section 11x a day for one week and then do the same for the next section and so on, until over 40 weeks, you've completed a practice of reciting each of the 40 sections of Japji Sahib 11x a day for a week.
Here are instructions for downloading the Japji for the Aquarian Age App
---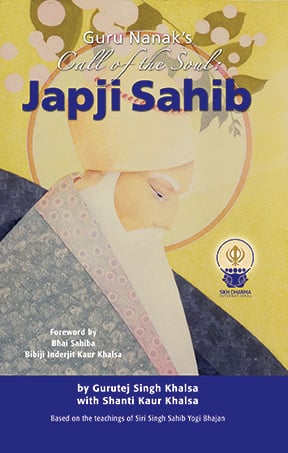 In Guru Nanak's Call of the Soul: Japji Sahib, by Gurutej Singh Khalsa with Shanti Kaur Khalsa, Based on the teachings of Siri Singh Sahib Yogi Bhajan:
In Japji Sahib, Guru Nanak touches the deepest essence of individual consciousness, elevating one to the universal consciousness. Japji is made up of 40 remarkable segments where Guru Nanak not only explains the mysteries of the cosmos, but also gives us spiritual instruction that we can follow to achieve the same experience of higher consciousness that Guru Nanak embodied. In this book the Mul Mantra and each of the 38 paurees of Japji, plus the Slok, are explained from a spiritual as well as historical perspective, enhanced by the teachings of Siri Singh Sahib Yogi Bhajan. It is our sincere prayer that this book will open up to you the miraculous wonder of Japji Sahib.
194 pages including an in-depth exploration of the 40 sections of Japji Sahib, 48 full color illustrations, 15 meditations that enhance the effects of the pauris, pronunciation guide and glossary and a foreword by Bhai Sahiba, Bibiji Inderjit Kaur Khalsa, PhD. Includes beautiful full-color paintings by Sewa Singh and Sewa Kaur.
Visit our Marketplace if you are interested in purchasing this book.