Mul Mantra
El Mul Mantra cambiará tu destino.
Elimina la fatalidad y cambia el destino para completar la prosperidad. Su recitación 11 minutos al día elimina el miedo y lo mantiene a uno vinculado con el pilar mismo de la vida, el alma. Al recitarlo se eliminan todos los enemigos.
Extracto del libro El Llamado del Alma de Guru Nanak: Llap Lli Sahib:
El mul mantra es la enseñanza fundacional del modo de vida Sikh. A menudo, el Siri Singh Sahib comentaba que la sabiduría contenida en el Siri Guru Granth Sahib estaba destilada en el Llap Lli Sahib y que la sabiduría del Llap Lli Sahib estaba destilada en el Mul Mantra. El Llap Lli Sahib inicia con el Mul Mantra, el mantra raíz. Siri Guru Granth Sahib comienza con Mul Mantra y es interesante darse cuenta que este es el único lugar donde el Mul Mantra aparece. El mul mantra es una enseñanza preciosa. Sus veintiséis palabras pintan una visión de las características, formas y aspectos del único Dios. Quizá hoy no nos parezca que esta proclamación de Guru Nanak sea revolucionaria, pero la primera vez que fue pronunciada fue radical, inclusive herética. Las palabras del Mul Mantra vieron nacer una nación espiritual que cambió el curso de la historia. El Mul Mantra es corto y simple, pero es difícil de entender su profundidad y sabiduría. Todo lo que necesitamos saber acerca de la naturaleza del universo está declarado en el Mul Mantra.
Recitaciones Musicales
Disfruta estas hermosas recitaciones musicales del mul mantra, cortesía de  SikhNet Gurbani Media Center:
Chardikala Jatha – Solsticio de Verano 2009
Acapella Jatha – del álbum "Dukh Sukh"
Mata Mandir Singh – Sadhana Acuariano en Vivo en Solsticio de Verano
Bhai Sadhu Singh – Dehradun 
Satkirin Kaur Khalsa – del álbum "Melody and Majesty"
Mul Mantra
Ek ong kaar sat naam
kartaa purakh nirbha-o nirvair
akaal moorat ajoonee saibhang
gur prasaad. Jap.
Aad sach jugaad sach hai bhee sach
Naanak hosee bhee sach. II 1 II
Un Dios creador universal,
su Nombre es verdad,
Ser creativo personificado,
sin miedo, sin odio,
Imagen de la inmortalidad,
más allá del nacimiento, existente por sí mismo, por la gracia del Guru.
¡Canta y medita!
Verdad en el principio primordial, verdad a través de las épocas,
verdad aquí y ahora,
oh Nanak, por siempre verdad.
---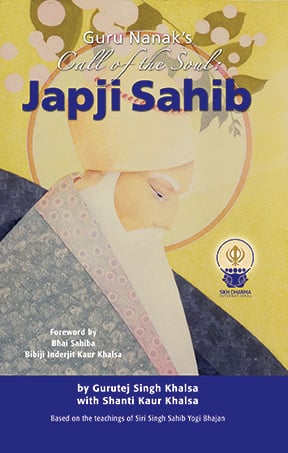 En el Llamado del Alma de Guru Nanak: Llap Lli Sahib, por Gurutej Singh Khalsa y Shanti Kaur Khalsa, Basado en las enseñanzas del Siri Singh Sahib Yogi Bhajan:
En el Llap Lli Sahib, Guru Nanak toca la esencia más profunda de la consciencia individual, elevándolo a uno hacia la consciencia universal. Llap Lli está hecho de 40 segmentos extraordinarios donde Guru Nanak no sólo explica los misterios del cosmos, sino también nos da una instrucción espiritual que podemos seguir para conseguir la misma experiencia de mayor consciencia que Guru Nanak encarnó. En este libro el Mul Mantra y cada uno de los 38 pauris del Llap Lli, más el Slok, son explicados desde una perspectiva espiritual y también histórica, mejorados por las enseñanzas del Siri Singh Sahib Yogi Bhajan. Es nuestra oración sincera que este libro te abra a la maravilla milagrosa del Llap Lli Sahib.
194 páginas incluyendo una exploración en profundidad de las 40 secciones del Llap Lli Sahib, 48 ilustraciones en color, 15 meditaciones que mejoran los efectos de los pauris, una guía de pronunciación y un glosario y prefacio por Bhai Sahiba, Bibiji Inderjit Kaur Khalsa, PhD.Incluye hermosas pinturas a color de Sewa Singh y Sewa Kaur.
Visita nuestro Mercado si estás interesado en comprar este libro.
Traducido por: 
Rupinder Kaur Khalsa 
Regístrate para recibir contenido de SDI traducido al español  
Necesitas practicar tu pronunciación del Llap Lli Sahib?
Una de las mejores formas de aprender cómo recitar el Llap Lli es escucharlo y leerlo junto con alguien más recitándolo.
Para ayudar con eso, tenemos una App gratuita de Llap Lli para la Era de Acuario (Japji for the Aquarian Age) para IOS y Android. Una vez que la descargues, puedes usarla para recitar el Llap Lli Sahib completo en tu práctica diaria, o puedes elegir la opción "Repetir Paurees" y repetir junto con la recitación de cada sección del Llap Lli sahib.
Una práctica especial de 40 semanas de recitación del Llap Lli Sahib es recitar una sección 11 veces al día durante una semana y luego hacer lo mismo con la próxima sección y así, hasta terminar las 40 semanas, tú has completado una práctica de recitar cada una de las 40 secciones del Llap Lli Sahib 11 veces al día durante una semana.
Aquí hay instrucciones para descargar la App Llap Lli para la Era de Acuario